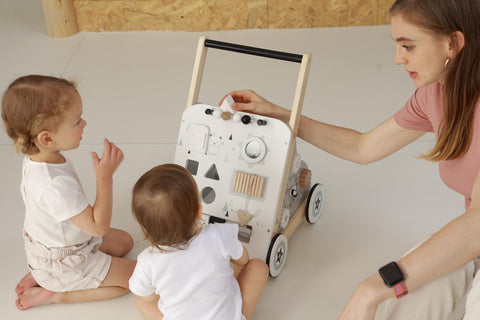 We recently had the pleasure of interviewing a talented designer working with Labebe, who designed stunning wooden rocking horses for kids! In this blog, we're going to ask the designers at labebe some of the same questions that parents are concerned about. 
How do you balance aesthetics and functionality when you design a wooden rocking horse for Labebe?
Choose the right material
Selecting the appropriate wood material is a critical decision when designing a wooden rocking horse as it can affect the product's aesthetics and functionality. It's essential to choose high-quality, durable wood materials that also offer aesthetic appeal to ensure that the final product meets both criteria. 
Get inspiration 
Designing a rocking horse requires a balance between aesthetics and functionality. It's important to ensure that the horse's size and shape are comfortable and safe to use while also making it visually appealing. I typically incorporate various animals into my designs and focus on optimizing their expression, shape, and color coordination to create an attractive appearance.
Carefully choose colors
The color of the wooden rocking horse is another important design consideration as it significantly impacts its aesthetic appeal. The decorative surface should be smooth, rounded, and polished to ensure both functionality and beauty.
Testing
During the testing phase, functionality is the top priority. Any issues identified during testing can have an impact on the horse's aesthetics and function, so it's important to address them promptly to ensure that the final product meets all design requirements.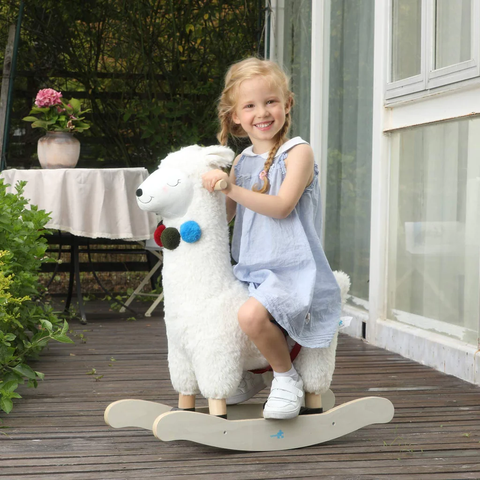 Purchase link: https://www.labebemall.com/products/labebe-baby-rocking-horse-wooden-alpaca 
What are your priority design elements? 
As the designer of a wooden rocking horse, it's important for me to consider both aesthetics and functionality to ensure that the product is visually appealing and practical for children to use. The design elements that take priority will depend on the toy's intended use and target audience, but there are some essential elements that must always be considered, including safety, durability, and usability.
Safety is of utmost importance when designing toys for children, so it's crucial to ensure that the toy is made from non-toxic materials and has no sharp edges or small parts that could pose a choking hazard. Additionally, durability is a key consideration since toys should be able to withstand the wear and tear of regular use. Finally, usability refers to how easy the toy is to play with, which can have a significant impact on a child's enjoyment and engagement with the toy. 
When you design new products, where do you usually get your inspiration from?
When it comes to creating new products, there are plenty of places to draw inspiration from, such as nature, art, current trends, or customer needs. To ensure that your designs are relevant and meet customers' needs, it's crucial to keep up-to-date with market trends and consumer demands. 
One way to kick-start your design process is to research what's already on the market and identify areas for improvement or gaps to fill. Additionally, observing how children interact with toys and considering their developmental stages and interests can provide valuable insights for creating engaging and enjoyable toys for them.
In conclusion, we've had the pleasure of speaking with Labebe's toy designer, a highly accomplished and talented designer with extensive experience in the field. He has shared invaluable insights into the creative process behind designing wooden toys and discussed the critical design elements that must be considered to ensure both safety and aesthetics. From carefully selecting high-quality materials to testing for functionality, he has highlighted the importance of a well-thought-out design approach that considers both form and function.